The historic night in Monaco not only told us who the UEFA Player Of The Year is, but, also, revealed the Champions Leauge draws. TalkBarca is here to discuss the group stage of the CL, and take a deeper look into Barcelona's Group F. UEFA Champions League group stage draws are lenient for some while harsh for others.
UEFA Champions League Group Stage Draws:
The Toughest Pools:
According to a majority of experts, Chelsea and Tottenham have been put in the toughest groups. Spurs had a good run in the previous season. Chelsea, on the other side, is operating with a new manager and no new signings. Furthermore, Lampard's side has not yet shown any spark this season. The Blues are in group H. Alongside them are Ajax, Valencia, and Lille.
Next, Tottenham is placed in group B. Alongside them, are the German Champions Bayern Munich. Moreover, Olympiacos and Serbia will also compete against them. However, both Spurs and Munich are favorites to go through.
Luck For Jurgen Klopp And Guardiola?
Klopp's Liverpool is in group E. Fans from around the world are relieved and super confident that their side will make it through to R16 with flying colors. Alongside Liverpool is Napoli which they faced last season as well. SalzBurg and Zenk are also in the same group.
Furthermore, Manchester City is also part of perhaps the kindest group. They are in group C alongside Shakhtar Donetsk, Dinamo Zagreb, and Atalanta. It is also pretty evident that Pep Guardiola will push it hard for Champions League title this season. Man City are already back to back champions in the English league. They are the favorites for this season too. However, critics claim that Guardiola has a keen eye on snatching European Glory this season.
Champions League Curse Continues For Barcelona?
Barca is a part of a very tough group in the Champions League. Some people are already calling it a group of death. The Catalonia squad is already undergoing a lot of deficit with many long term injuries and un-fit players. They have been placed in group F. Borrusia Dortmund and Inter Milan are going to accompany the Spanish side in the same group. Slavia Prague of the Czech Republic is also the part of the same group.
Barcelona has a lot to prove heading into the Champions League. A win in this league is must for them in order to keep their pride intact. Their first CL game is away against Borrusia Dortmund on 18th September.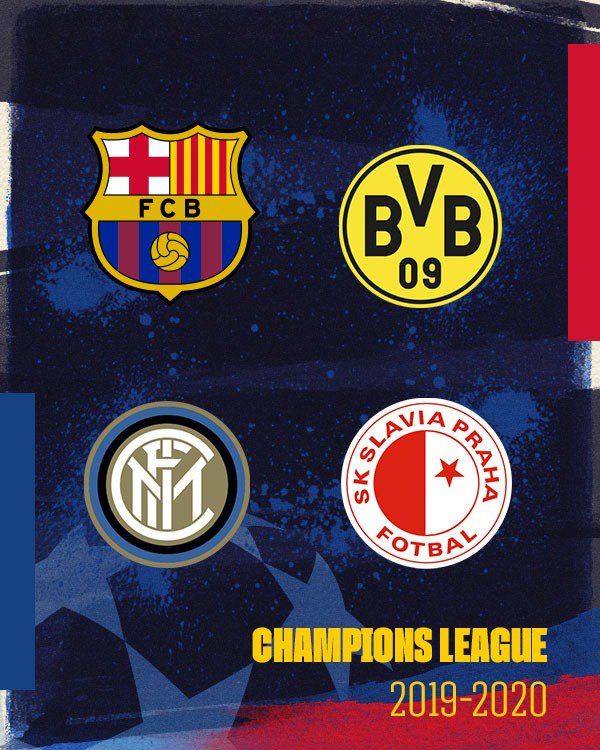 Real Madrid and Atletico Madrid:
Real Madrid is also going to have a tough outing in the group stages. They are against PSG, and Club Brugge, not to forget the Turkish side, Galatasaray. However, they are the favorites in this group to qualify from the first position.
Things are spicy on the other side of Madrid as Atletico is landed once again with Juventus. Considering the outstanding hattrick from Ronaldo against them in last season, this will surely be a fixture not to miss. Bayer Leverkusen and Lokomotiv Moscow are a part of the same group.
Verdict:
So, that was all for today from TalkBarca. What do you think about the group stage draws? Where do you think will Barcelona stand this season? Let us know in the comments section below. Until next time, Visca El Barca!